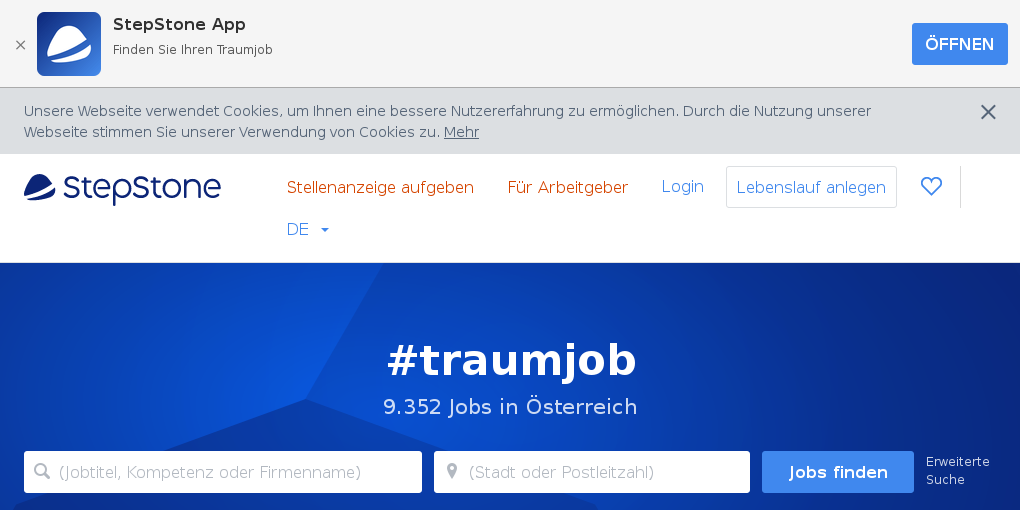 About
Recruitment as focused as you are: StepStone Austria uses target group channels to put your jobs in front of the right candidates –cost-effective recruitment at its best.
Stepstone.at is No.1 in candidate delivery in Austria, delivering over 8.4 interviews per job ad compared to the national average of just 5.5 interviews per listing.
Reach the best talent nation-wide as well as regionally: StepStone.at runs various sites to deliver the best candidates wherever you need them in Austria.
StepStone Austria operates unijobs.at, the market-leading job board for student jobs, internships and part-time jobs, providing you with premium-access to talented young professionals.
Founded in Norway in 1996, StepStone is one of the most successful online job boards in Austria. As one of the pioneers in online recruiting and part of Axel Springer Group, StepStone builds on unique experiences, which recruiters as well as qualified candidates benefit from every day. StepStone Austria is one of the most visited online job boards with around 320,000 monthly unique visitors. Stepstone.at exclusively addresses specialised personnel and executive managers. On average, candidates find 5,000 job listings onlineat any time.
StepStone Austria: trusted by top recruiters
StepStone offers an optimised service that focuses on quality. As such, renowned clients as IKEA, Baumax, Siemens, Deloitte, Peek & Cloppenburg and Spar rely on their solutions.
StepStone Austria operates two other popular job boards: www.unijobs.at is Austria's leading platform for student jobs & part-time jobs and website of choice for young professionals; www.arbeiten.at is a blue collar job site focusing on the catering and trade industries. Regardless of what you're looking for, StepStone Austria offers the best-fitting recruitment solutions.
Statistics
0
Total number of job listings
Product Offering
Testimonials
Violeta Cvetkovich – UNIVERSIMED Cross Media Content GmbH
Thanks a lot for your support during our recruitment process. We received a high number of qualified applications and will place our job listings again on StepStone.at!