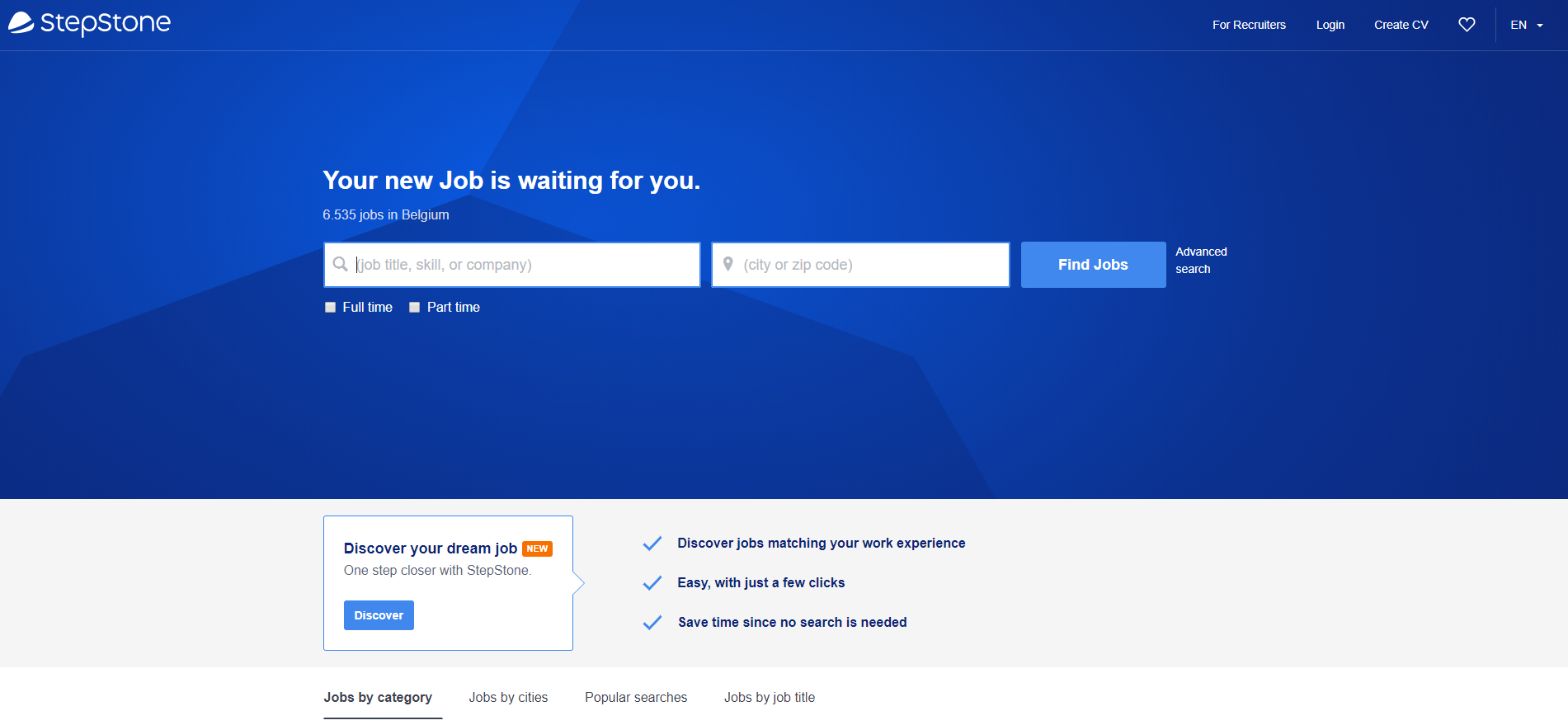 About
Job search is the main focus at StepStone Belgium: using cutting-edge search technology, your job ads are put in front of the candidates you really want to reach – delivering great results and a high number of applications per listing.
StepStone.be is clear No.1 in candidate delivery in Belgium, averaging six quality candidate interviews per job ad when the market average is for three interviews per online listing (survey by TNS)!
StepStone.be runs targeted channels, enabling cost-effective recruiting to a specific target group. These channels are very popular among recruiting customers and candidates and available for attractive profiles such as engineers, IT profiles, financial professionals, young potentials, management and sales.
StepStone works with a wide range of partners to maximise the visibility of your vacancies. Their job offers also appear on extremely well-referenced websites such as Skynet, Move-up, La Libre Belgique and more.
A wide range of additional products and services help you to find the right candidates, including innovative online magazine Nine2Five, which attracts around 100,000 unique visitors per edition.
StepStone Belgium was established in 2000 and has since gone on to become a major player on the Belgian recruitment market. Every month, more than 620,000 candidates visit their website looking for jobs, and more than 400,000 subscribe to their 'Job Agent' service, which emails users jobs matching their search criteria.
StepStone Belgium: the trusted choice for your recruitment needs
More than 3,500 Belgian companies trust StepStone Belgium with their recruitment campaigns. A large team of dedicated staff make sure that everything happens as it should. Recruiters have one fixed contact who follows up the results of job listings and advises you on how to improve results.
To attract the right people for the jobs posted on their site, StepStone Belgium offers a quality, functional website. A job site has one main objective: attract as many quality candidates as possible, and they work hard every day to ensure that new technologies are integrated into their website to make their services better and achieve their goals. StepStone Belgium also offers you training on their website, sharing their expertise of the local job market with you.
Statistics
0
Total number of job listings
Product Offering
Testimonials
Anne-Catherine Zoller – E-communication Specialist, ING
StepStone Belgium distinguishes itself from other communication channels through the close relationship we have with them and the customised service they provide. Thanks to StepStone Belgium, we can find the most wide-ranging candidate profiles, irrespective of the level of experience or the specific qualifications we are looking for.
Isabelle Vanlerberghe – Development & HR Communication Manager, AG Insurance
We use a whole range of channels to fill our vacancies: job sites, networks, fairs and our own website, which is logical in view of the number of new positions we are creating. The intake via StepStone Belgium is striking, though. No less than one fifth of all high-quality CVs come from them. That is impressive.
Lieven Huygens – Talen Manager, Siemens & Vincent Vandaele – Lead Engineer, Siemens
Our own staff bring in many new candidates. Aside from that, StepStone Belgium has become our main recruitment source, whether we are looking for young people with a technical profile or experienced candidates to join our sales team or to work as consultants. Since that is precisely StepStone Belgium's strength, we don't need any other job sites. One advertisement is all it takes to reach the right candidates.
Thierry De Meester – Managing Director, Triple A Solutions & Jean-Paul Van Damme – Recruitment & Selection, Triple A Solutions
Over the past three years we have found no less than 689 relevant CVs via StepStone.be. What is even more impressive, though, is as many as 256 of these candidates looked so promising we shortlisted them for future vacancies. That is more than one third of all our candidates! Of those, we effectively recruited 35 of these applicants – clear proof of the quality offered by StepStone Belgium.
Andrew Simmonds – Managing Director, The Profile Group
Here at Profile Group we love figures and measurable results, especially the StepStone Belgium ones, which manage to wow us time and again.