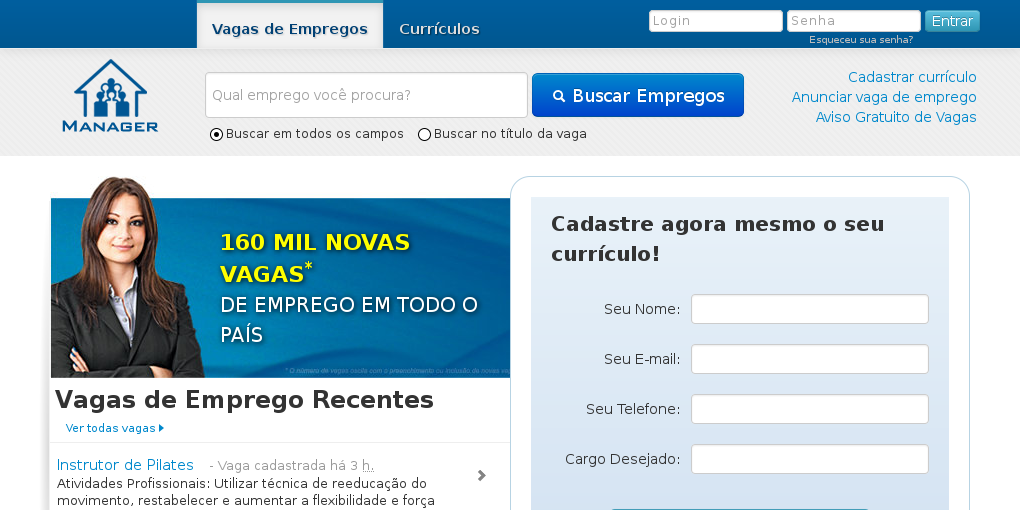 About
Trust your job ads to the experts in the Brazilian jobs market: Manager Online has more than 10 years' experience in placing the right candidates in the right jobs.
Manager Online attracts around 6,000 new vacancies every day as the trusted choice for filling jobs in Brazil.
With around 100,000 companies currently using Manager Online for their recruitment solutions, they are known for delivering results.
Manager Online has a large community of active online jobseekers with over 2.5 million registered CVs in their easy-to-search database, designed to help you find talent faster.
Manager Online is one of the major HR and recruitment websites in Brazil. With more than ten years experience in the online jobs market, its sucess is perceived by the outstanding growth delivered in recent years.
Manager Online: recruitment solutions to save you time
Manager Online is a professional showcase where candidates can posts their CVs to be evaluated by thousands of recruiters and companies can post their job openings to be seen by thousands of jobseekers.
In addition, Manager.com.br provides content about job search, interviews and the job market in order to attract the best, qualified talent to the site. This respected job site is the right choice when you're looking to hire in Brazil's fast-moving jobs market.
Statistics
0
Total number of job listings
Product Offering