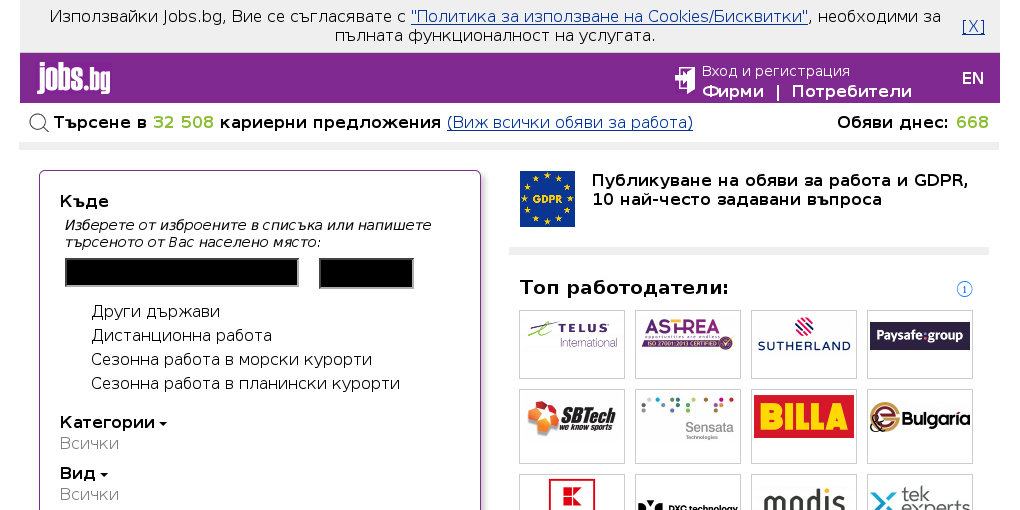 About
JOBS.BG is the No. 1 job site – and one of the most popular websites – in Bulgaria, visited by more than 1.2 million unique users every month (Google Analytics).
As the primary source for career advice about the IT and engineering sectors, JOBS.BG has a strong reputation among top candidates in these industries.
Both large and SME businesses use JOBS.BG as their primary, and often sole, recruitment channel for attracting the most qualified candidates.
Improving the effectiveness of your recruitment campaigns, JOBS.BG represents the widest spectrum of business fields and candidates in Bulgaria.
The media has almost 100% brand awareness of JOBS.BG, ensuring your recruitment campaigns offer the best return on investment.
JOBS.BG was first launched in 2002, and since 2003 they have been the market-leading job board and primary source for career information in Bulgaria. The website is visited by more than 1.2 million unique users who send over 1.8 million applications every month (Google Analytics). JOBS.BG is the recruitment media with the largest audience in Bulgaria by far with an audience exceeding multiple times the combined audiences of all of their competitors. This is why over 70,000 companies post more than 25,000 job offers per month with them.
Suitable candidates for effective recruitment solutions
JOBS.BG creates the optimal environment for companies to find the most suitable candidates, and for candidates to get the opportunity to fully develop their careers. Around 74% of their users are currently employed and 72% have higher education qualifications (GTMS, Intelligence Group).
Following their success in the Bulgarian job market, JOBS.BG was voted Business Superbrand 2007-2008 and Superbrand 2009-2010. JOBS.BG is also a member of the Bulgarian Human Resource Management and Development Association, the Association of Advertising Agencies – Bulgaria, the Bulgarian Association of Information Technologies, the Bulgarian Web Association, and the International Association of Employment Web Sites.
Statistics
0
Total number of job listings
Product Offering