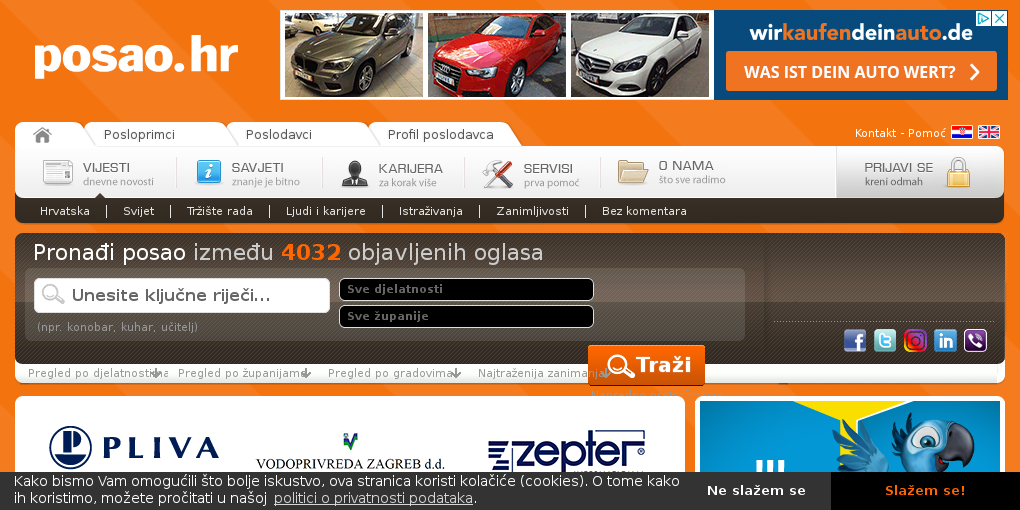 About
Get your jobs in front of the right people – Posao.hr is one of the most visited job boards in Croatia with over 350,000 unique visitors every month.
Posao.hr actively promotes your jobs by emailing them directly to their database of over 60,000 jobseekers.
You can preselect the right candidates easily and efficiently via the job board's advanced CV filters.Have specific recruitment needs?
Posao.hr offers tailor-made solutions based on your own needs.
Posao.hr have a team of professional staff with years of recruitment experience; without exception, they are always available, reliable and efficient, offering only the best customer service.
Posao.hr has been in the online recruitment business for 12 years and it is a leading Croatian job site, the place where recruitment supply and demand have a common language. Why should you recruit through Posao.hr? Their distinctive features include: a well-structured, clearly-designed website where your job ads stand out, all of the tools you need to search for the best candidates, a fast service to bring you quality job applications, attentive and responsive recruitment consultants with local knowledge.
Posao.hr: the best candidates for your recruitment needs in Croatia
Continuous improvement of the services and content of Posao.hr have resulted in strong visitor growth rates. Sometimes it can be difficult to find a skilled, motivated and qualified employee but with Posao.hr recruiting is easier and faster. More than two thirds of their visitors belong to 18-34 age group, which means your advert is targeted at the most competitive part of the market. In addition, a significant portion of their visitors have a higher educational degree, ensuring a response to your job ads from qualified candidates for even the most demanding posts. Your advertisement will not pass unnoticed as more than 70% of visitors come back to Posao.hr a few times a week. By working with Posao.hr you are in with the best chance of finding the right people for your roles.
Statistics
0
Total number of job listings
Product Offering
Testimonials
Cooperation with posao.hr from the very beginning was to considerably high level. The greatest asset of a company is to have the right partner who at any given moment understands your needs – tailor your offer to them, but understands your problems and, therefore, have a partner who will be responsive and flexible as it always has been posao.hr for Le Meridien Lav .
PricewaterhouseCoopers d.o.o.
Working with the team at the company Posao.hr has always been to our mutual satisfaction. The whole team is – without exception – always available, and its members are friendly, courteous, reliable and efficient. Deadlines are always respected. I must admit that my experience in cooperation with the firm is only positive and I always look forward to cooperate with them.
Splitska banka – Societe Generale Group
Posao.hr proved to be an excellent partner SGSB in seeking new employees. Very professional and very quick team staff posao.hr responds to our need for advertising immediately. In addition, their suggestions and advice are constantly helping in the search for the best candidates for the positions that we need.