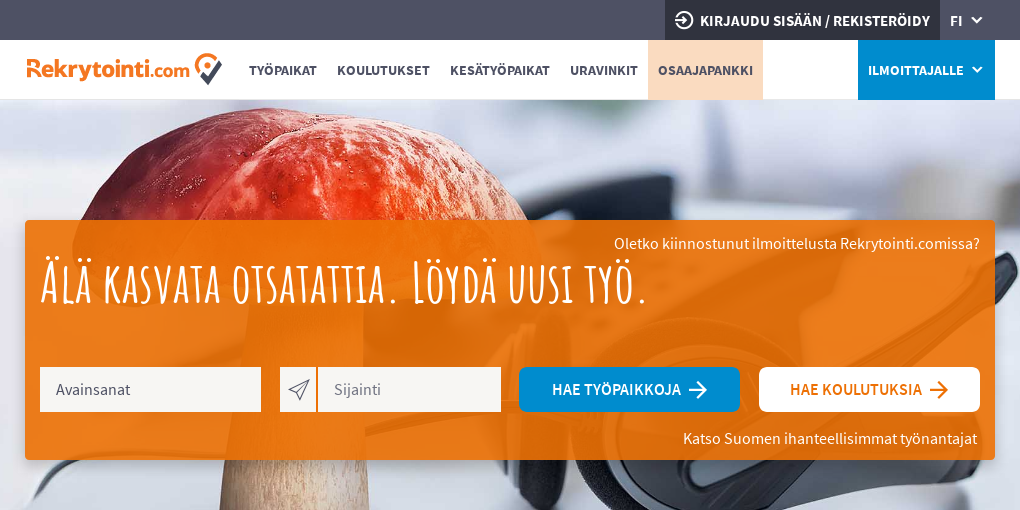 About
Rekrytointi.com has a strong local approach for the Finnish market. Our aim is to serve both job seekers and employers in a comprehensive and versatile way.
Rekrytointi.com gives your ads coverage across the whole of Finland. With the help of strong media co-operation network including over 20 leading regional newspapers and several association sites, Rekrytointi.com offers a comprehensive solution for successful recruitment and employer branding.
In addition to the main site Rekrytointi.com has several sub-sites for different industries and localities, in which suitable listings will be published automatically. For more effective search, Rekrytointi.com offers flexible visibility products to reach even bigger audience.
Rekrytointi.com is available both in finnish and english so professionals with good language skills and interest to global job opportunities can be reached via Rekrytointi.com. Most of the candidates have at least a Bachelor's Degree.
Career guides for jobseekers alongside with educational and entrepreneur adverts attract highly career minded and motivated talents. With the help of Rekrytointi.com employers are able to reach both active and passive job seekers.
Rekrytointi.com (formerly Uranus.fi) has 20 years of expertise on digital recruitment providing a recruitment site and a LAURA recruitment system. Our network has hundreds of thousands of jobseekers and career changers, a large number of top employers in Finland, several major media houses and numerous training providers.
Our career portal Rekrytointi.com is a meeting point both for the active and passive job seekers and also for the companies and organizations who are looking for the best candidates and talents. Rekrytointi.com gathers both job and educational ads in one place with a first-class quality and this will make finding new career possibilities even easier. We help people to find work and education to improve their careers and employers to improve their recruiting.
Our vision is to create the most popular service on the Finnish market combining job posting, talent scouting and executive searching. We want to serve our B2C and B2B-customers even more comprehensively and to bring the career portal closer to our LAURA -recruitment software. Finding the job, education and recruitment of your life is now made even easier!
Statistics
Product Offering
Testimonials
Antti Joutseno – CEO, Jaakko Lehto Executive Search Ltd
Jaakko Lehto Executive Search Ltd is one of Finland's oldest and the largest executive search agencies. We are the representative in Finland for the Glasford International chain. As we work in the headhunting business, we only publish open positions on public search when the customer requests it. In these cases, LAURA Recruitment Ltd has been our first choice as a recruitment channel for over 10 years. In our international assignments we have successfully used the CV databases of LAURA Recruitment Ltd's international partners in The Network and found top candidates who have been hired.
Kaisu Makkonen – Manager, Global Recruiting, Konecranes
We are happy with the number and quality of the candidates we got with our campaign in several countries via LAURA Recruitment Ltd. No additional actions were needed for the campaign..
Jukka Pekonen – Co-founder, CEO, Joberate Ltd
We have been using LAURA Recruitment Ltd for advertising our clients' open positions with good results.
Päivi Saarikko – HR Specialist, OP-Services Ltd, OP Bank
The cooperation with LAURA Recruitment Ltd helps us reach all of our potential employees in Finland.
Pertti Kaijasilta – Marketing Manager, NorthID
We were looking for a group of professionals for our media office and used LAURA Recruitment Ltd. We received plenty of good applications and many of the top candidates told us they had found the ad at LAURA Recruitment Ltd.
Auli Antila – CEO, Expericon Ltd
We have been very pleased with LAURA Recruitment Ltd as a recruitment channel when searching for IT experts. Working with LAURA Recruitment Ltd is easy and their customer service is top class. We can highly recommend using LAURA Recruitment Ltd.