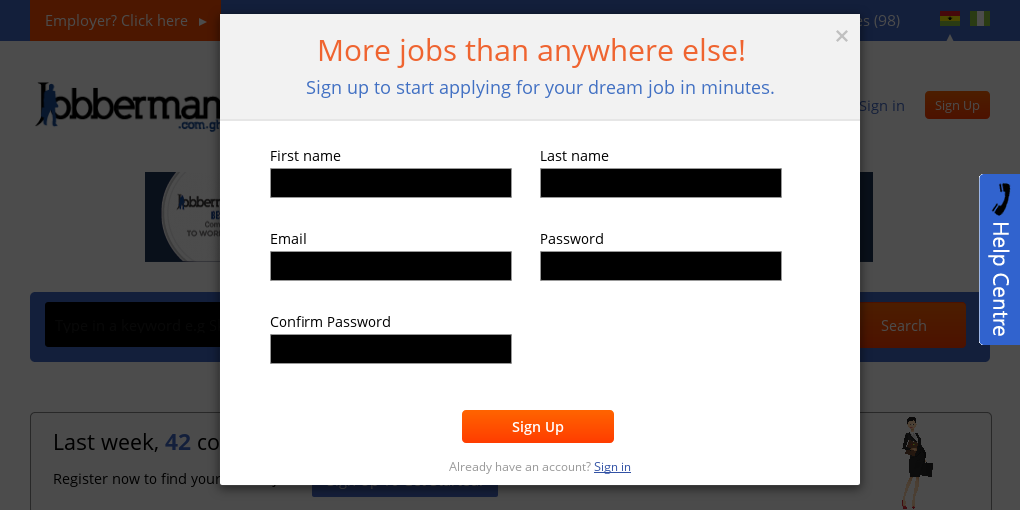 About
Advertise your jobs on Ghana's fastest-growing job board and reach the people you need to target.
Ensure your jobs are seen by the right jobseekers: jobberman.com.gh is Ghana's No.1 job site, as ranked by Alexa.com.
Go for the trusted option: jobberman.com.gh has more job ads than any other job board in Ghana.
For maximum exposure jobberman.com.gh is the right choice, attracting more than 6,000 unique jobseekers a month.
Extend the reach of your job ads: jobberman.com.gh is part of the largest recruitment group in the whole of sub-Saharan Africa, based on traffic.
In less than 1 year, Jobberman.com.gh has become the top destination for recruiters and jobseekers in Ghana. Ayodeji Adewunmi, Olalekan Olude and Opeyemi Awoyemi cofounded Jobberman.com while still at university and now the company recruits around 50 members of staff. Jobberman.com has also been involved in several events since it launched and has co-sponsored career fairs and other academic events.
Employers rely on Jobberman.com.gh to go the extra mile in fulfilling their unique needs by providing them with the right candidates for their roles. Jobberman.com.gh is owned by Jobberman.com, the biggest job site in Africa with operations in Nigeria and Ghana.
Jobberman.com.gh: Unique Recruitment Services
With systems and processes like no other, Jobberman.com.gh gives employers and jobseekers in Ghana an efficient and purposeful service that surpasses their expectations. The reach of Jobberman.com.gh cuts across all years of experience and industries. Their rich client list reflects in the quality of the job ads hosted on the website.
Jobberman Ltd has been nominated for several awards such as 'Best use of Technology' for Y Naija (Future Awards) and has received notable mentions by Forbes Magazine. Jobberman Ltd was voted in at No.8 in Forbes Magazine's 'Top 20 Tech Start-ups in Africa'. So, if you're looking for maximum reach and quality candidates in Ghana then contact jobberman.com.gh for their recruitment solutions.
Statistics
0
Total number of job listings
Product Offering