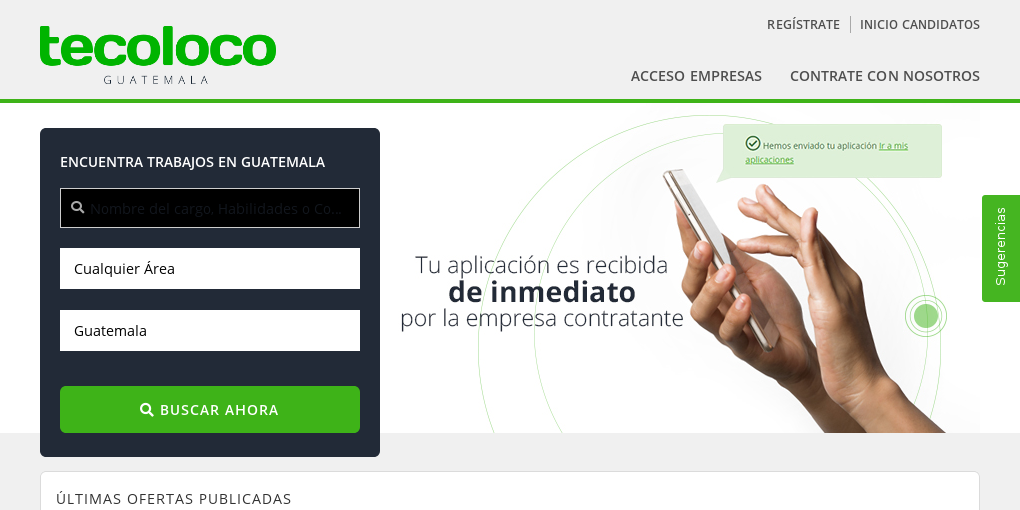 About
Enjoy great exposure: over 800,000 qualified candidates visit Tecoloco.com every month.
Recruitment is made easier with an extensive talent pool: Tecoloco has the largest CV database in Central America with 1 million registered candidates.
Tecoloco allows you to increase your reach and source talent not only from Guatemala but also six other countries in the region – via one portal.
Receive matching applications immediately to your company´s account in Tecoloco – it's hassle free and easy to manage.
Use innovative pre-screening technology to filter out candidates that do not match you criteria.
Receive helpful advice to make recruitment even easier and more efficient with access to unrivalled customer service and support.
If you have senior roles to fill, Tecoloco also offers a strategic division of executive headhunting and is the exclusive provider in the region of the assessment Thomas International.
Two years after of the launch of the successful Tecoloco job portal in El Salvador in 2003, the website grew to cover recruitment in Guatemala. Tecoloco Guatemala has now positioned itself as the market-leading job board in Guatemala in terms the number and quality of candidates registered in their CV database, visits of jobseekers to the site and search rankings on Google.
The team from Guatemala is comprised of 17 people and they ensure that your jobs are filled by the best candidates in the country.
Statistics
0
Total number of job listings
Product Offering
Testimonials
Beverly Barrios Ferres – Recruiting Officer, Industrias Licoreras de Guatemala
For Industrias Licoreras Guatemala, Tecoloco is essential to our recruitment and helping us to find the ideal candidates because they support us through the process. The majority of our hires are made through Tecoloco.
Andrea Garzaro – Business Partner Recursos Humanos, Kimberly Clark Guatemala
The Tecoloco website has become one of the most efficient recruitment sources that Kimberly Clark is currently using. We use Tecoloco in all of our recruitment processes, so we always get excellent results and it guarantees us the ideal candidates.
Víctor Rodríguez – Human Resources Manager, Grupo Alza Guatemala
The service provided by Tecoloco to Grupo Alza is very satisfying. The pre-screening technology and the customer service make our recruitment process easier, including their executive hiring process of high profile candidates in order to find the ideal employee.