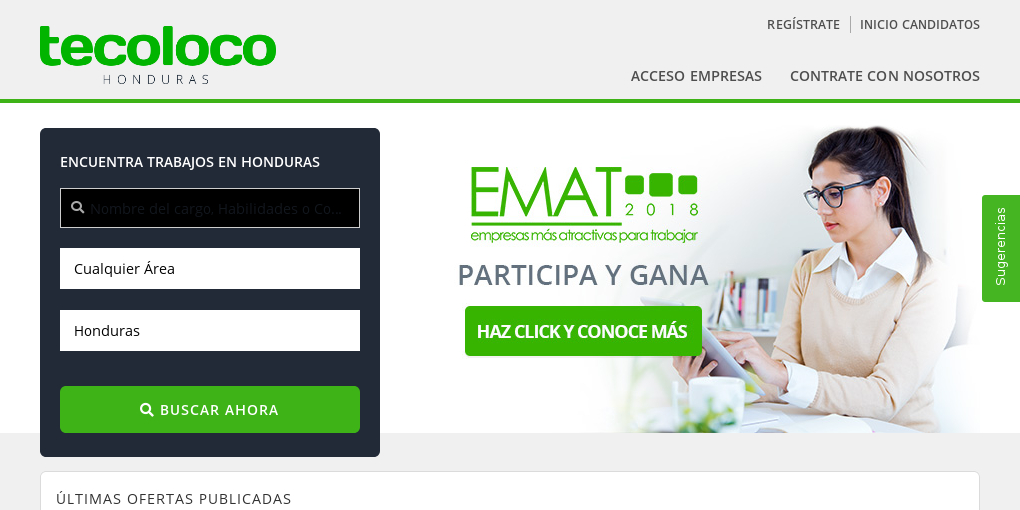 About
Enjoy great exposure: over 800,000 qualified candidates visit Tecoloco.com every month.
Recruitment is made easier with an extensive talent pool: Tecoloco has the largest CV database in Central America with 1 million registered candidates.
Tecoloco allows you to increase your reach and source talent not only from Honduras but also six other countries in the region – via one portal.
Receive matching applications immediately to your company´s account in Tecoloco – it's hassle free and easy to manage.
Use innovative pre-screening technology to filter out candidates that do not match you criteria.
Receive helpful advice to make recruitment even easier and more efficient with access to unrivalled customer service and support.
If you have senior roles to fill, Tecoloco also offers a strategic division of executive headhunting and is the exclusive provider in the region of the assessment Thomas International.
Tecoloco Honduras was launched in 2005 and remains today the only local job market. There are 2 offices for Tecoloco Honduras, one in the capital city Tegucigalpa and the other in San Pedro Sula.
With the largest CV database in Honduras, Tecoloco has become the principal recruitment source for companies in the country and the trusted option for filling your jobs quickly and efficiently.
Statistics
0
Total number of job listings
Product Offering
Testimonials
Bessy Fonseca de Duarte – Senior Human Resources Manager, Banco Atlántida Honduras
Atlántida Bank uses Tecoloco for recruiting employees. It has been useful for the institution because it makes the recruitment process easier and we get a significant number of candidates for different departments of the bank.
Allan Zúñiga Pérez – Human Resources Manager, COMEX LATAM
I have had the opportunity to use the recruitment service provided by Tecoloco and the time, quality, customer service and presentation of candidates has been very satisfying. We have found a strategic partner instead of just a service provider.