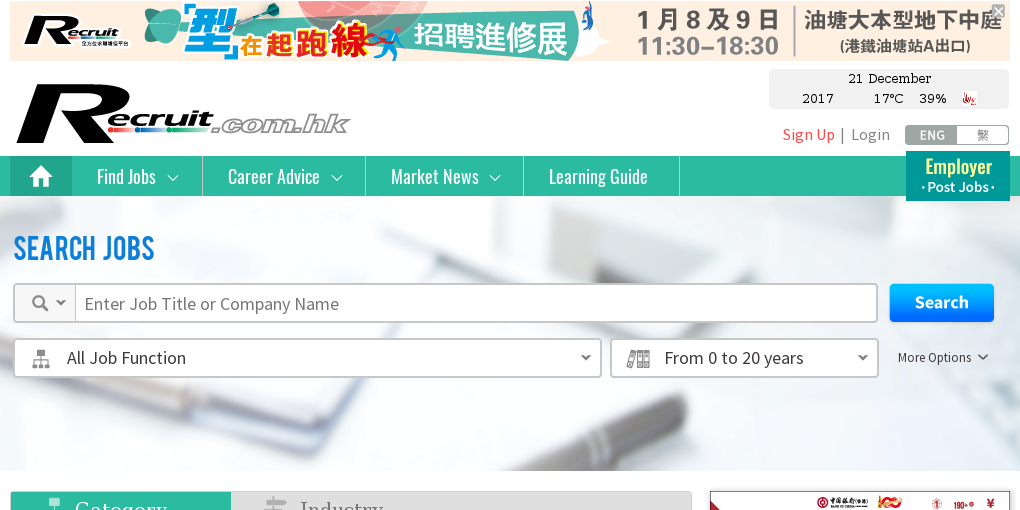 About
Recruit.com.hk is an effective and user-friendly platform for job posting and candidate searching in Hong Kong. Their advanced system enables you to publish jobs easily and maximizes the reach of your jobs ads.
In 2009, Recruit.com.hk was elected the most favourite recruitment website among university students.
Attractive content attracts attractive job seekers: Recruit.com.hk offers not only job advertisements but also motivational articles on career-related enrichments, labour market and industry news to career-oriented individuals. An investment that pays off: 55% of visitors to Recruit.com.hk possess a tertiary degree or have a master background.
To increase your reach and to attract quality candidates, Recruit.com.hk has collaborations with partners from HR and education including China Daily (Hong Kong Edition), the Hong Kong Management Association & the Hong Kong Retail Management Association, the Hong Kong Trade Development Council and The University of Hong Kong.
Founded in 1992, Recruit Advertising Limited is wholly owned by Cinderella Media Group Ltd (Hong Kong Stock Exchange stock code: 0550). Recruit is the No.1 free recruitment magazine in Hong Kong, published every Tuesday and Friday, expert in combining job advertisements with comprehensive articles on labour market and industry news, as well as career related enrichment articles and activities to attract readers who strive for work-life balance.
In 1996, they extended their service to education advertisement and introduced the Recruit.com.hk website to give the advertisements greater prominence and reach. Today Recruit.com.hk is one of the leading recruitment websites in Hong Kong enabling employers to post jobs easily and increasing the reach of quality candidates as well as providing jobseek¬ers with powerful online job searching tools to hunt jobs and manage their job applications with use-friendly tools under strict privacy. Recently, Recruit.com.hk added mobile access to their online services so that job seekers can search and apply for jobs anytime, anywhere.
Statistics
Product Offering