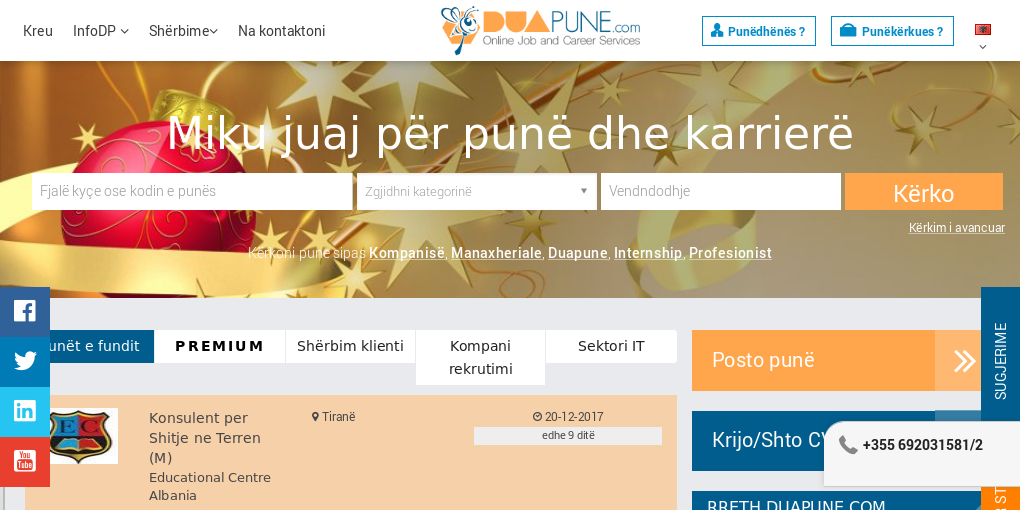 About
Get your jobs in front of the right candidates: duapune.com has been the leading online job site in Kosovo since 2009.
Recruiting in Kosovo is easy and efficient thanks to Duapune's dedicated team with a strong expertise in human resources.
Put your trust in a job site that will best represent your business: duapune.com is a reputable brand with proven market success and is widely considered to be an e-services success story.
Expand your job reach to passive candidates through social media and strong online content: duapune.com has established a large growing social media community of over 300,000 fans and produces an educational blog for jobseekers and employers.
Benefit from a wealth of local recruitment data: duapune.com has the largest market employment data in the region and publishes its employment index frequently.
Duapune.com is the largest dedicated online job portal in Albania and Kosovo, working to help employers hire people with affordable prices using state-of-art technology. Their offices are based in Tirana and Prishtina and the duapune.com team also supports interested companies with headhunting and recruitment services in the areas of coverage.
Duapune: Technology Developments To Aid Recruitment
Duapune.com was launched officially in 2009 and currently counts over 74,000 active jobseekers, over 3,400 employers and has an online community of over 300,000 fans shared between Facebook, LinkedIn and other social media platforms. It represents one of the pioneers of online services and has a unique reputable online brand for the job market in Albania and Kosovo, serving a population of 6-7 million. Duapune.com also launched a mobile app for Android users in 2014 which represents a good source of traffic. So if you're looking for a recruitment partner you can trust with a large audience reach then look no further.
Statistics
Product Offering

Job Posting
Testimonials
Renis Tershana – CEO R&T Group, Tirana Albania and Prishtina, Kosovo
Duapune.com has been our online recruitment partner since its beginning. Through them we are able to find the right candidates for the company and for the projects we implement in Albania and Kosovo in a timely, cost-effective manner. The team at duapune.com is very committed, supportive and professional and we are very happy working with them.