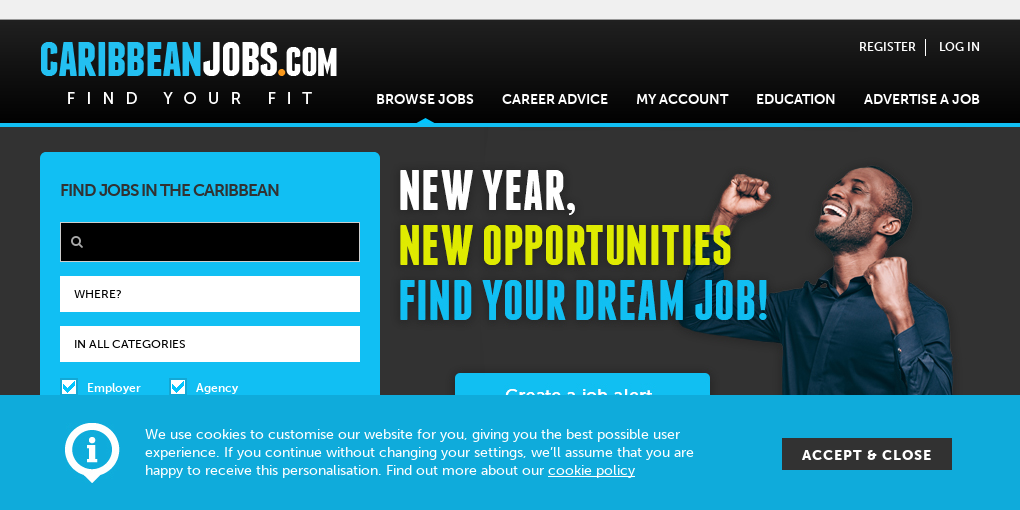 About
CaribbeanJobs.com is the Region's No. 1 recruitment website and one of the most popular websites in the English-speaking Caribbean, offering your job ads the widest reach.
There is no better way to find top candidates in the Caribbean: CaribbeanJobs.com's monthly traffic, 1000+ jobs posted and 1000+ clients are more than every other online competitor combined.
Helping your jobs to be found by top candidates on the go, CaribbeanJobs.com is the only recruitment website in the Caribbean that offers a mobile website.
CaribbeanJobs.com attracts engaged, active jobseekers who spend more than 7 minutes on the site, viewing more than 9 pages.
A strong response to your job ads is guaranteed: the average application rate per job is 70.
CaribbeanJobs.com, is the Caribbean's No. 1 Recruitment Website has been bringing jobseekers and recruiters together since 2005. CaribbeanJobs.com is more than just a website, it is a comprehensive platform for the Caribbean job market. Trusted by over 1000 businesses throughout the Caribbean each month, they are the Caribbean's preferred recruitment website.
CaribbeanJobs.com: the competitive edge
With 7 years' experience creating a synergy between recruiters and jobseekers, CaribbeanJobs.com has the competitive edge in online recruitment. CaribbeanJobs.com is a comprehensive jobseeking and business recruitment solution, with a personal touch. As the world grows smaller every day, and CaribbeanJobs.com is making sure you're able to bridge borders and create careers through one intuitive web-based solution.
Statistics
0
Average number of applications per job listing
Product Offering
Testimonials
Ijeoma Osuji (Ije) – Regional Assistant Director Human Resources, Ernst & Young
CarribbeanJobs has provided Ernst & Young Caribbean with a unique opportunity to build our capacity to attract the right talent for the firm. As Ernst & Young forges to acquire market dominance throughout the regional business landscape, the partnership we have gained with CaribbeanJobs serves to strengthen our interface and synergy with our varied candidate communities. We now have well populated and sustainable applicant pipelines that have matured into significant talent pools for current and future hiring needs.
The rich applicant flow that the site cultivates has equipped us with the ability to respond quicker and with greater accuracy to the staffing needs of our firm. CaribbeanJobs has proven to be an effective source channel that penetrates numerous markets and geographic locations. We look forward to a continued successful partnership with CaribbeanJobs.com.
Pat Casey – Group Human Resources Director, Digicel
We are the fastest growing mobile telecommunications operator in the Caribbean. There's only one type of person we are looking for the best.
Throughout the last year CaribbeanJobs.com has maximised our exposure helping us source excellent quality candidates locally in existing markets and each new market we enter. CaribbeanJobs.com also allows us reach the Caribbean diaspora quickly and cost effectively. CaribbeanJobs is user-friendly and most importantly CaribbeanJobs.com works! The level of customer service and support we receive is second to none.
I would recommend CaribbeanJobs.com to any company based in the Caribbean for an effective, professional and reliable source of exceptional talent.
Gregory Sealy – General Manager Human Resources, ArcelorMittal Point Lisas Limited
ArcelorMittal Point Lisas Limited is on a renewed path with a revised Vision and accompanying mandate that demands the inclusion of qualified professionals.
CaribbeanJobs has afforded us the opportunity to online access to such personnel – locally, regionally and internationally in spite of competitive market factors. They have therefore effectively reduced valuable time that would have been spent implementing other traditional recruitment methods. The ease with which we can include or exclude positions, and the almost instant and continuous availability and professionalism of their personnel are additional factors that make utilisation of their services a very worthwhile option for our organisation.
Ken Mahabir – Group Human Resource Manager, ANSA McAl Group of Companies
The ANSA McAL Group has been in existence for over 125 years and employs in excess of 6000 persons. The Group's regional presence includes subsidiaries in Trinidad and Tobago, Barbados, St. Kitts and Nevis, Guyana, Grenada and the USA and is involved in manufacturing, brewing, insurance, finance, real estate, media, shipping, trading/distribution, automotive and industrial equipment retailing sectors.
The ANSA McAL Group is in a growth and expansion mode which creates a need for a vibrant workforce in its diverse business areas. The Group has benefited from the services offered by Caribbeanjobs by attracting applicants regionally and internationally, effectively widening the resource pool of possible applicants for the various subsidiaries of the Group.
Séamus McCarthy – Human Resource Manager, Kelcom International, Kelectric Ltd.
CaribbeanJobs without any hesitation whatsoever has been the single most successful recruiting move we ever have made. It is not just the "Replies" which are impressive but the professionalism, sincere customer service and continuous follow up PLUS the great rewards of quality CVs and personnel.
For example, we listed three particular positions, an Operations Manager and Quantity Surveyor and Construction Project Manager and literally within two hours we had CVs which not only were quality but resulted in two top hires within 48 hours.
The genuine support and professional care given to me and our company is definitely worth more than words can state as they have lifted a load from my shoulders and the company has reaped the benefits of CaribbeanJobs quality website and service.
I have no hesitation in endorsing Caribbeanjobs and its staff as top class and they genuinely "delivered the goods".