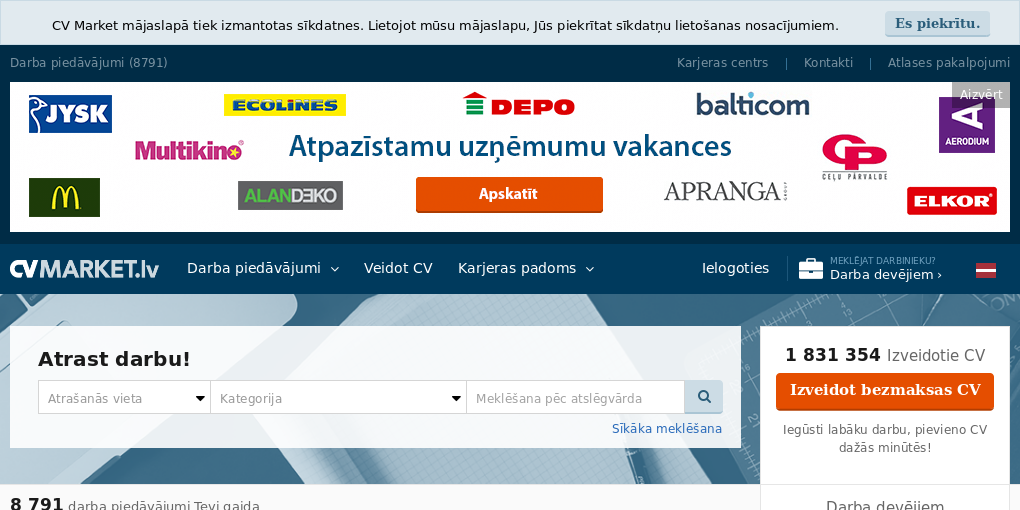 About
Promising good return on investment, CV Market Latvia is a major player on the Latvian job market and the fastest-growing career portal in Latvia.
You can find highly qualified candidates with CV Market Latvia: their users are typically 20 to 49 years old, mostly with a BA degree or higher.
Extend the reach of your ads and find the best candidates quickly: 70% of all users on CV Market in Latvia are currently employed, allowing you to reach not only active but also passive jobseekers.
CV Market Latvia is a HR company that has operated in Latvia since 2003 and offers quality and progressive HR solutions online. Such an approach eases comunication between the employer and the jobseeker.
Maintaining close contact with clients, CV Market Latvia offers you the best solutions to HR issues. You can publish your job ads, browse an impressive CV database and contact and evaluate candidates online. To save you valuable time and resource, CV Market Latvia also offers extra services, such as pre-selection which includes browsing the database on your behalf, phone interviews and fact-to-face interviews.
CV Market Latvia: bringing you the best candidates
CV Market Latvia ensures that quality candidates come to their site with an excellent range of services for jobseekers. Users can browse and apply for jobs on a daily basis across more than 3000 job ads published by local companies and foreign employers. The CV Market Online Career Centre offers jobseekers careers advice and written material on relevant labour market issues as well as up-to-date information on surveys and forecasts. This brings the best candidates to CV Market Latvia, offering your job ads exposure to the country's top talent for quick and easy recruitment.
Statistics
0
Total number of job listings
Product Offering
Testimonials
Laura Kalnina – Vice-president HR and Administration, Reaton Ltd.
It's easy to enter, modify and archive job ads at CV Market portal. Our sales consultant is very helpful and kind, she always assists us even if the requests go beyond her every day duties – we always get fast replies. We have the feeling that this portal gained jobseekers' attention, because we keep on receiving more and more job applications. We evaluate our relationship with them as positive.
Jānis Kalejs – HR assistant, ELKO Grupa, JSV
CV Market Latvia has a very nicely laid out homepage. Everything is accessable and it's easy to work with. It takes very little time to enter our job ads and the system is convenient. An important service is the ability to view archived applications for every job ad. We will definitely continue work with CV Market.