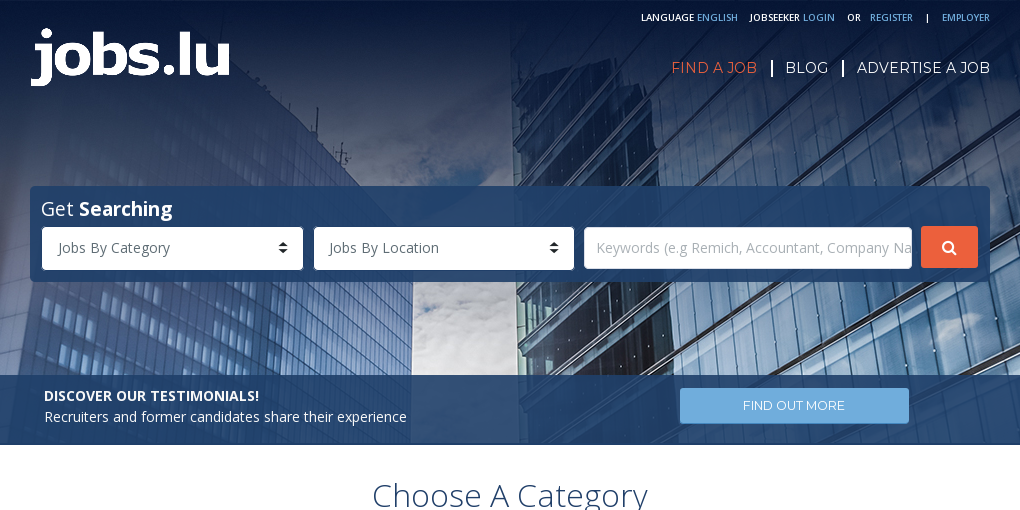 About
Get your jobs seen by top candidates in Luxembourg: Jobs.lu offers you an in-depth knowledge of the local recruitment market.
Fed up of not being able to access recruitment services out of hours? Job.lu offers access to their full range of services 24 hours a day, 7 days a week!
Ensure return on investment on your recruitment activity: Jobs.lu prides itself on its cost effectiveness so you can find top candidates on a budget.
Jobs.lu also offers a personalised follow-up service with an experienced account executive, so you get the personal touch when placing your job ads.
Recruiting with Jobs.lu is easy and efficient with a personalised management system for dealing with your applications, saving you time and money.
Jobs.lu was first established in January 2007 and employs the same model of recruitment advertising as its successful sister company Jobs.ie. Jobs.lu has a head office based in Luxembourg and has already established itself as one of the main recruitment websites in the local marketplace.
Jobs.lu: Efficient service for optimal return on investment
Jobs.lu is looking to become the benchmark for online recruitment in Luxembourg, offering a quick and efficient service to recruiters and jobseekers alike. Jobs.lu averages more than 300,000 visits to its site every month with a total of 2.1 million page views per month. If you are looking for an efficient recruitment service with local expertise and a strong database of active jobseekers then jobs.lu will help you to reach the right candidates.
Statistics
0
Total number of job listings
Product Offering