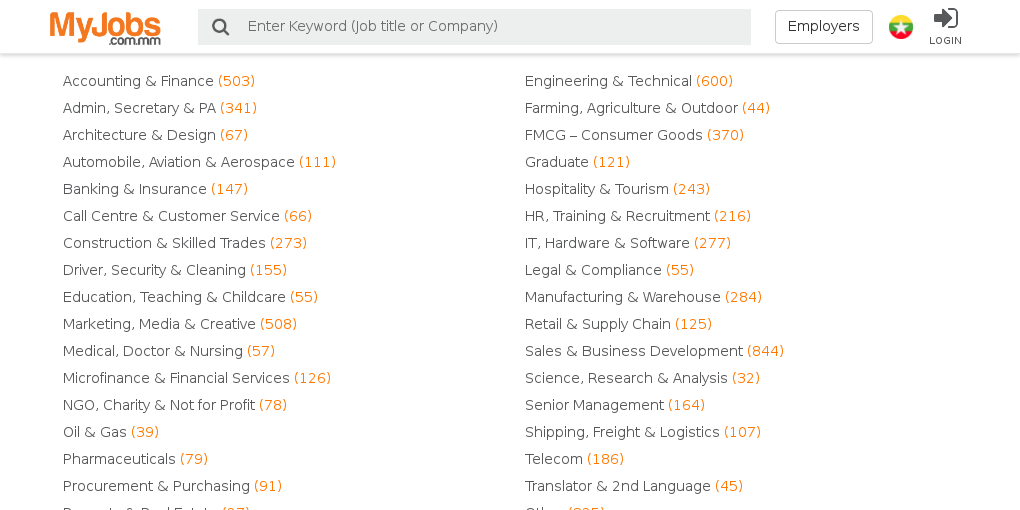 About
Get your job ads seen by the best candidates for fast, efficient recruitment: MyJobs.com.mm is the leading online job portal in Myanmar with a large reach across the region.
Looking for high-quality candidates for professional jobs? MyJobs.co.mm has the widest reach of well-educated, experienced Myanmar jobseekers with at least a Bachelor Degree.
Make the recruitment process as quick and cost efficient as possible through their easy-to-use screening tool that identifies the most suitable job applicants for your roles.
Expand your job reach to passive candidates through social job ads and improve your own employer branding in Myanmar: MyJobs.com.mm has a huge Facebook following with over a million fans!
Looking for the best technological developments from your recruitment partner? MyJobs.com.mm ensures a top user experience through an optimised, fast mobile website so candidates can interact with your job ads on the go.
MyJobs has been a pioneer of recruitment services in Myanmar since 2012 and hundreds of companies and NGOs have found some of their finest employees through the MyJobs team, comprising 50+ Myanmar nationals and international experts. Since launch, MyJobs.com.mm has become the leading online job portal in Myanmar.
MyJobs.com.mm: Innovative Recruitment Solutions
Besides online recruitment solutions, MyJobs also offers Myanmar's first – and only – world class recruitment agency service and top end executive search service. In addition to this, MyJobs is popular with over 1 million Facebook fans, showing it's by far the number one recruitment company in Myanmar.
MyJobs is the preferred recruitment and employer branding partner in Myanmar for multinationals, local conglomerates and international SMEs who are entering this exciting high-growth emerging market. So if you are after a recruitment partner in Myanmar who can bring you quality candidates then MyJobs.com.mm is the right solution for you.
Statistics
Product Offering