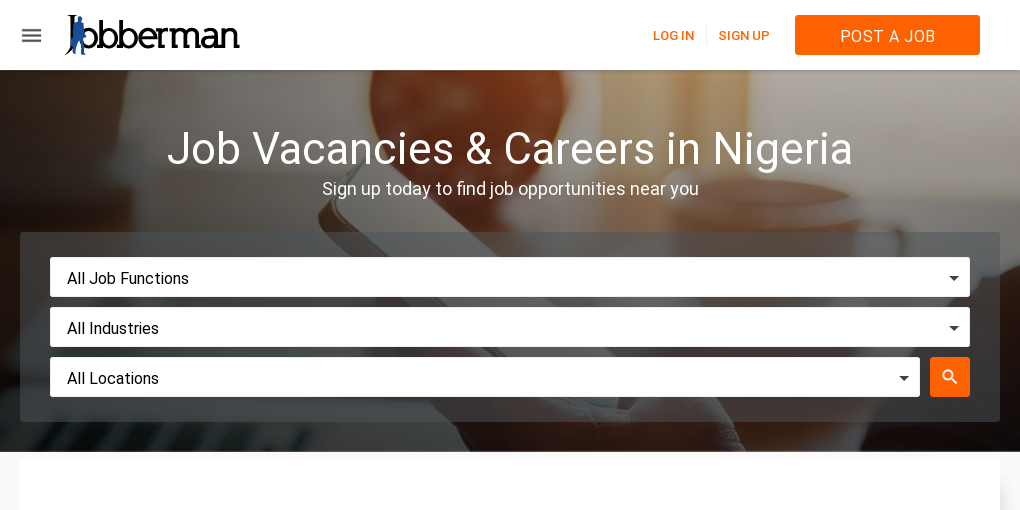 About
Entrust your job ads to the biggest recruitment site in Nigeria: Jobberman.com is the clear market leader in the country, based on number of jobs ads, traffic, registered members and employers.
Opt for Nigeria's trusted recruitment solution. Jobberman.com is regularly visited by active jobseekers and is Nigeria's No.1 job site and No.3 content website overall.
Get your job ads seen by the right people: Jobberman.com attracts over 21,000 new unique jobseekers every month.
Widen the pool of quality jobseekers who see your job ads: Based on traffic, Jobberman.com isn't only the largest job site in Nigeria, it's the largest in the whole of sub-Saharan Africa.
Cofounded in August 2009 by university students Ayodeji Adewunmi, Olalekan Olude and Opeyemi Awoyemi, Jobberman.com has gone on to become Nigeria's No. 1 job site, comprised of 50 members of staff. With their help, employers can access the most relevant pool of qualified jobseekers to fill vacancies quickly and cost-effectively.
Jobberman.com: the smart choice for recruitment in Nigeria
Jobberman.com is the most intuitive job portal in Nigeria, offering up-to-the-minute job opportunities from across the country. The recruitment site boosts their offering through online career advice and personalised HR solutions for both individuals and institutions. Jobberman.com's audience includes first-time jobseekers, experienced candidates, brands, corporations and recruitment agencies, bringing everyone together for the most efficient recruitment experience.
Jobberman Ltd has been nominated for several awards, such as 'Best use of Technology' for Y Naija (Future Awards) and has received notable mention by Forbes Magazine. The recruitment site was voted in at No. 8 in Forbes Magazine's Top 20 Tech Start-Ups in Africa. Jobberman.com was also recently featured in the McKinsey Internet Report on aspiring countries as one of the most 'Innovative Companies in Nigeria'. Jobberman.com are involved in several events and have also co-sponsored career fairs and other academic fairs. For good results and cost-efficiency in Nigeria, Jobberman.com has a recruitment solution to suit your needs.
Statistics
0
Total number of job listings
Product Offering
Testimonials
Olubunmi Adewale Olukoya – Managing Consultant, Dguconsult
What can I say about Jobberman? Well, Jobberman is simply the best . I have been partnering with them for a while now and I love their speed and dedication to work, we have been able to recruit and place various staff within different organizations by partnering with Jobberman. Our clients are happy when they ask us for various vacant positions, which we always fill, and we are happy because we are confident that with a network like Jobberman you can be sure of connecting the right people to the right jobs and the right jobs to the right people.
Leke Oshiyemi – HR-Expert, Recruiter, Conference Speaker
I have used Jobberman.com many times and I can honestly say that I have received a good response to my vacancies and found premium candidates searching the database. I consider Jobberman to be one of my number one recruitment methods for local recruitment. Thank you jobberman.com for your support.