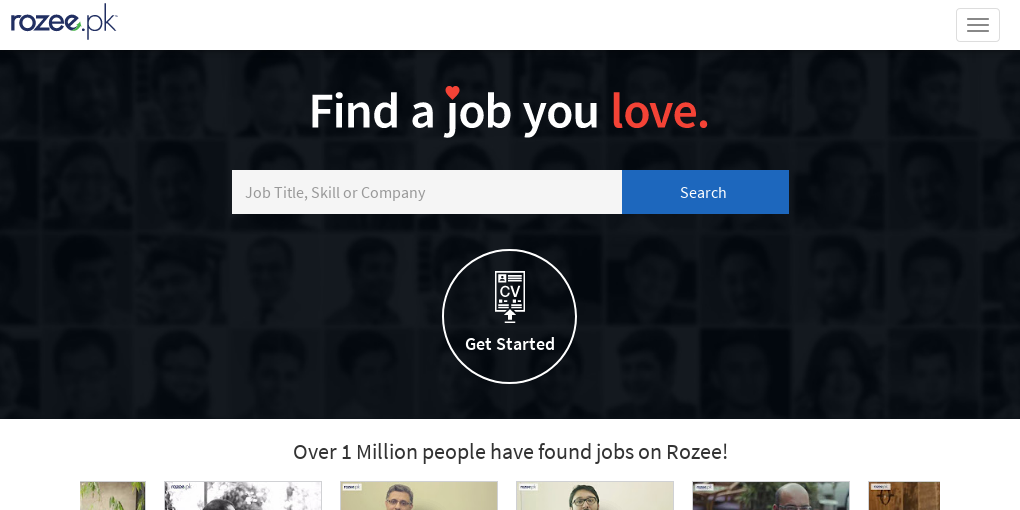 About
ROZEE.PK is the trusted choice for recruitment solutions in Pakistan with over 45,000 leading companies post jobs on the site.
Put your jobs in front of the right candidates: ROZEE.PK receives more visitors than the other 5 job sites in Pakistan combined.
Hire highly qualified candidates and the talent of tomorrow: ROZEE.PK has strong relationships with Pakistan's HEC universities.
A highly-motivated customer service team helps to shape the perfect recruitment strategy for your needs: to deliver the best results, customisation is standard at ROZEE.PK.
ROZEE.PK is a service of Naseeb Networks, Inc., a Silicon Valley new media company. Mr. Monis Rahman, President and CEO Naseeb Networks has previously founded and run several companies ranging from internet startups to chip design consultancies. He has raised venture capital for two internet startups in Silicon Valley, and has nine patents to his credit.
Mr. Rahman started his career at Intel Corporation where he was a key member of Intel's microprocessor design team. He completed his undergraduate degree in Electrical and Computer Engineering from the University of Wisconsin, Madison and did graduate work at Stanford University. He has been featured by numerous magazines and newspapers including New York Times, CNN, InfoWorld, Red Herring, Infoweek, The Chicago Tribune, The Miami Herald, The Oakland Tribune, The San Francisco Chronicle and Spider.
ROZEE.PK is venture backed. Their investors include founders and/or senior executives from Cisco, Friendster, PayPal, LinkedIn and tribe.
ROZEE.PK: putting your jobs in front of the right candidates
ROZEE.PK is Pakistan's number one online job site, connecting talent with opportunity. ROZEE.PK provides services to jobseekers and employers by providing them with one platform for job searching and hiring, respectively. By advertising your jobs on ROZEE.PK you ensure that they are seen by the best active candidates and filled quickly and easily.
Statistics
0
Total number of job listings
Product Offering
Testimonials
Ahmar Waheed – Manager Human Resources, Atlas Battery Limited
Our experience with ROZEE.PK can be described as professional, customer oriented and effective. They have handled our concerns in a professional manner. Right from the beginning they have taken care of our needs in the best possible way they could and they effectively helped us in getting the people we were looking for.
Syed Adeel Ahmed Bukhari – Human Resource Coordinator, Atlas Engineering
For immediate recruitment of a senior position, I tasked ROZEE.PK and I'm glad that they successfully met our request within the limited time period we had. During this time, I found their key accounts team very responsive and dedicated to meeting our needs.
Salman Bashir – Director, Chase up
ROZEE.PK is a very cost effective method for one's hiring needs. It gives you a vast range of candidates without going through hundreds of CVs. Personally, Chase up is highly satisfied with the services of ROZEE.PK and would highly recommend it to anyone seeking good candidates.
Samrah Ibadat – Deputy Manager HR, National Foods Ltd.
National Foods has used ROZEE.PK for over 3 years, it meets 90% of our diversified requirements, from Entry level to Management level. Another reason for carrying on with this mutually beneficial relationship is the fact that ROZEE.PK gives us the necessary visibility that our brand requires as an employer.
Muhammad Rafi – Assistant Manager HR, Pak Suzuki Motor Company Ltd
Partnering with ROZEE.PK has made our processes smoother in terms of time and quality of hire. ROZEE.PK is setting new trends to meet the upcoming challenges and always steps ahead in delivering the best.
Jehanzeb Khan – Manager Recruitment, TOTAL Atlas Lubricants Pakistan (Pvt) Ltd
We have experienced consistent growth in Pakistan's Oil business market. Indeed, we acknowledge that ROZEE.PK is a good addition to our area of recruitment. The portal has adequate pool of potential candidates which is indeed very helpful.
Sarfraz Shaukat Ali – Assistant Manager Human Resources, Standard Chartered
The best part about ROZEE.PK is the ability to customize it to our requirements. The CV Search Engine allows you to filter the candidate in ways that are not possible elsewhere. You can target the very niche you are looking for through that channel.