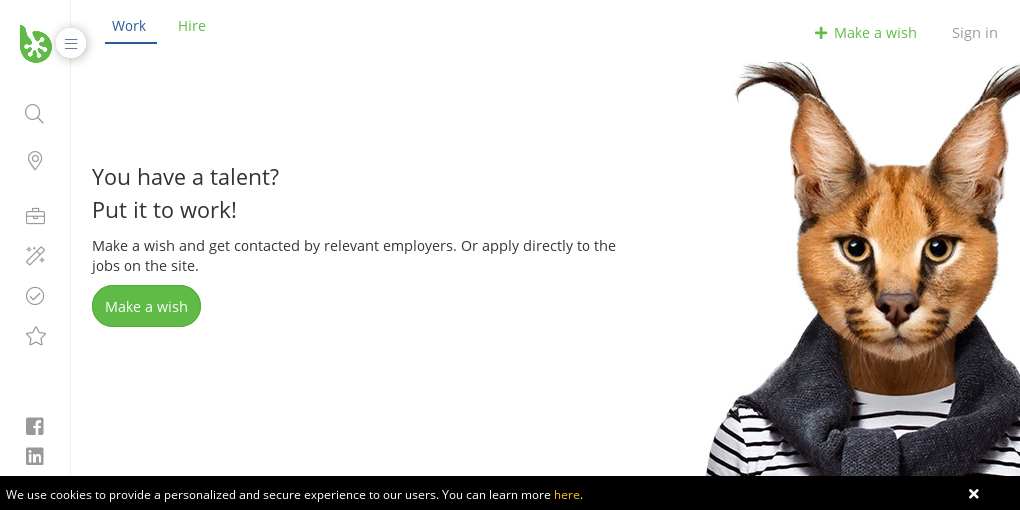 About
BestJobs.eu is one of Romania's leading job sites, with more than 12 years of experience in the online recruitment business.
Experienced account managers and a dedicated support team are at hand to assist you at any time of your recruitment campaign and make sure you get the best return on investment.
BestJobs.eu's advanced CV filters make pre-selecting the right candidates from the flood of applications easy and efficient.
When recruiting with BestJobs.eu you benefit from highly attractive prices – without having to compromise on the quality of results and service!
Twice as many listings as the nearest competitor make BestJobs.ro the clear No.1 for Romanian and international jobseekers.
BestJobs.eu has been in the online recruitment business for 12 years, attracting over 1.4 million jobseekers every month. Searches with BestJobs.eu get the best results for candidates and recruiters, generating over 1.5 million applications a month.
BestJobs.eu: attracting the best candidates with jobseeker features
Jobseekers can find positions that are a better fit for their skills, talents and interests on BestJobs.eu. ustomisable pages help candidates toreceive job opportunities that meet very specific criteria, saving time and allowing them to focus on positions that eally match what they are looking for. BestJobs.eu also provides additional resources like CV, cover letter and interview advice as well as company profiles, news and networking tools for various industries. These resources save candidates precious time during their job search, increasing their chances of landing a new job – and providing you with more educated and highly qualified potential candidates for your vacancies.
BestJobs.eu is a fully-owned site of BestJobs Recrutare S.A., a privately held company registered in Targu Mures, Romania. Support, development and configuration teams work from the BestJobs Targu Mures corporate office, and the sales staff is located in the BestJobs Bucharest Romania office. BestJobs.ro is active in Romania, Serbia, Bulgaria and Moldavia and employs over 100 people. Their business is a fully functioning European network with offices in Bucharest, Belgrade, Sofia and Chisinau.
Statistics
0
Total number of job listings
Product Offering
Testimonials
Diana Tirnovan – HR Consultant, misoft systems
BestJobs.ro is an excellent partner in the selection and recruitment process. The partnership approach with a proactive attitude, respect and professionalism is appreciated. Because we share the same organisational values, it is highly likely that this will be a long-term relationship.
Morar Cosmin – Administrator, SC DECORPORATE MEDIA SRL
In September-October 2010 our investment in branding brought us a large number of CVs in response to our active job ads, as well as significant extra traffic to the company website. Our partnership with BestJobs.ro and an investment in their recruitment packages was a double win with an increased number of relevant CVs. I recommend this job site for all companies interested in benefits like visibility, traffic to company website and more relevant CVs per position.
Stamova Svilena Sr. – HR Generalist, Stream Global Services
The BestJobs.ro website is user friendly – operating the filtering tools and sorting through CVs is a real pleasure. The quality of the applicants is high, too. We managed to fill our vacancies in a week… an amazing result. Therefore, I truly recommend BestJobs.ro to all employers!
Valentin Titivel – Recruiter, ALES CONSULTING SRL
We have used BestJobs.ro to find suitable candidates for our clients. BestJobs.ro is our preferred site for finding new candidates. We are very pleased with their services and we highly recommend them!
Nyhagen Knut – General Manager, Marintech
It is simply incredible – we received approximately 200 applications to our job ad within the first 24 hours! It would have been impossible to anticipate such a success – and clearly shows us that in Romania all we need for recruitment is BestJobs.ro.