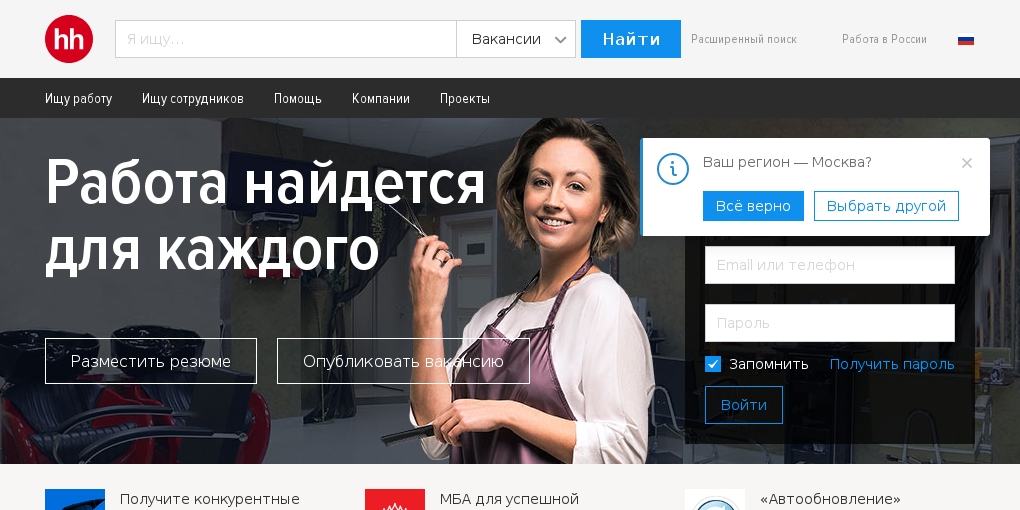 About
Recruit with the No. 1 job portal in Russia: Liveinternet ratings reveal that HeadHunter Group websites receive around 9 million unique visitors per month and is a Top 5 most visited career service in Europe.
Reach the right candidates: the estimated number of invitations to job interviews sent via HeadHunter since 2000 is more than 13 million!
All of the CVs available in the hh.ru database have been approved by appointed specialists guaranteeing quality and making searching for top talent easy and cost efficient.
hh.ru allows you to target top management talent and extends the reach of their audience to cover entry level and blue collar positions through specialist portals career.ru for graduates and joblist.ru for middle and low-level workers.
HeadHunter is the part of Mail.Ru Group – one of the largest internet companies in the Russian Federation, which comprises such business segments as e-commerce, online gaming, media projects and numerous services. HeadHunter hires around 500 employees across 4 countries, constantly enhancing the high quality of services to meet the needs of both employers and job applicants.
Since 2000, hh.ru has been the leading internet recruitment service in Russia. The daily number of visitors to the hh.ru portal averages around 800,000. Employers and recruiters appreciate the high quality CVs available on the site, as well as the professionalism of applicants who turn to this resource for job searching services.
Among HeadHunter's clients are not only numerous hiring agencies, but also over 150,000 direct employers, many of them top Russian and multinational corporations. Top- and medium-level managers constitute the bulk of those who visit the portal looking for jobs. The thorough processing of each CV ensures only high quality resumes are displayed on the site.
hh.ru: a personalized service
hh.ru offers a personalized service to clients with each job ad processed individually. They ensure that the hh.ru does not display vacancies for 'ordinary' workers (shop assistants, loaders, yard-keepers and similar) or vacancies with companies that engage in network marketing and forbidden or doubtful types of businesses. They maintain their quality control at all times with a trusted reputation. By posting your jobs with hh.ru you ensure that you'll receive the best applications from quality candidates.
Statistics
0
Total number of job listings
Product Offering
Testimonials
Yekaterina Belyakova — HR manager, OZON.RU
I have been using the hh.ru website since 2003. At first this website was just one of a few popular career services, but soon it gained first place in my personal list of favourite websites. At present, we hire specialists in very different fields, such as marketing, law, finance, IT, HR, tourism, purchases, etc. And almost all the vacancies of mid-level managers are filled with the help of hh.ru.
Anna Baratova —Head of HR department, Treolan (Lanit)
I have been using hh.ru website since it first started. From the beginning, this resource could be easily distinguished from similar job sites. For our company, hh.ru is an essential tool of staff recruitment. We regularly search for specialists for our IT department, financial department and back-office, and 90% of the vacancies are filled with the help of HeadHunter.
Maria Dvinyaninova — CONSORT Staff Selection Moscow
Almost all good applicants are found through hh.ru. Other 'similar' websites lack worthy and decent candidates.
Dmitri Viktorov —Head of IT/SAP recruitment department, Penny Lane Personnel
Over the period of 7 years I've been efficiently hiring SAP / IT / Telecom specialists through hh.ru.