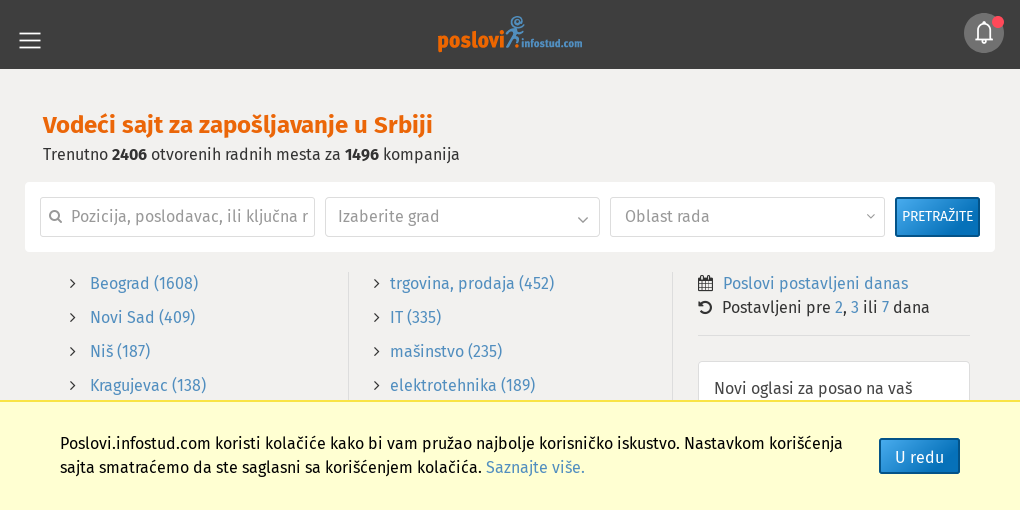 About
Get your job ads seen by the best talent: as the most visited job board in Serbia with over 1.2 million visits per month, Infostud offers the best ratio of quality and quantity compared to other sites.
Measure the effectiveness of your campaign: you'll receive detailed statistics and performance data, giving you a real insight into the results of your recruitment campaigns.
Special additional campaigns are at your disposal to help you find the most suitable candidates.
Professional HR services allow you to leverage your brand awareness and benefit from great exposure, from specialised websites for HR managers to an employee satisfaction survey Best employer award, you can choose the tools most suitable for your hiring needs.
Infostud was founded at the end of 2000 and, at the time, it was intended for university students and future students. It was the first of its kind in Serbia. Three years later, Infostud released a job board, the first employment website in Serbia. The website has since maintained a leading position the country among all job boards. Infostud is now one of the largest Internet companies in Serbia with over 80 employees and 11 websites covering different areas: employment and HR, education, travel, cars and tyres.
Infostud has partnerships with all of the relevant professional societies (HR Association, Society of HR professionals, Employers society of Serbia) and agreements with state and public institutions in the field of employment (Ministry of labor and social security, National employment agency) and international and domestic HR agencies (Adecco, HILL International, Dekra employment, ConsulTeam, Trenkwalder etc.).
Infostud: working to find you the best candidates
As the most visited job board in country, Infostud has largest database of updated CV profiles, the largest number of available job positions and market coverage of 95%. All of the advanced services that they provide you (pre-selection of job applications, professional HR website, HR projects) keep them one step-ahead of their competitors and ensure that your recruitment campaigns are as cost effective as possible.
Statistics
0
Total number of job listings
Product Offering
Testimonials
Delta Generali osiguranje
Infostud has become an unavoidable place for everyone who's looking for job. We have fulfilled most of the vacant positions in our company with candidates who applied through Infostud. We are very satisfied with our cooperation and hope that we will continue to work together in future on development of even more efficient recruitment tools.
As a company who very often employs candidates of different age groups, profiles and education levels, we find Infostud a reliable and valuable partner who helps us to find the best candidates. A large number of website visits and also the possibility of additional advertising in printed media through Infostud gives an employer the opportunity of reaching many interested candidates.
The partnership between Carlsberg and Infostud has lasted long enough to confirm our satisfaction in the partnership. Due to professional approach of the Infostud, team we have managed to find quality candidates faster and more efficiently. We cannot ignore the fact that Infostud represents a platform for the education of people looking for a job, which makes the work of HR professionals easier in the recruitment process. Infostud is the second name for the place where potential and chance meets.
For years, Coca Cola Hellenic Serbia and Infostud have had great cooperation in realising projects such as Coca-Cola talents, Graduate Trainees etc. Throughout every project we have learned one from another, together improving them and designing new ones. We mutually recognize needs and always seek to walk one step ahead of everyone, which has made the partnership with Infostud a serious and long-term one. We are proud of the relationship we built. Our cooperation continues on traditional, but also on new, future, projects.