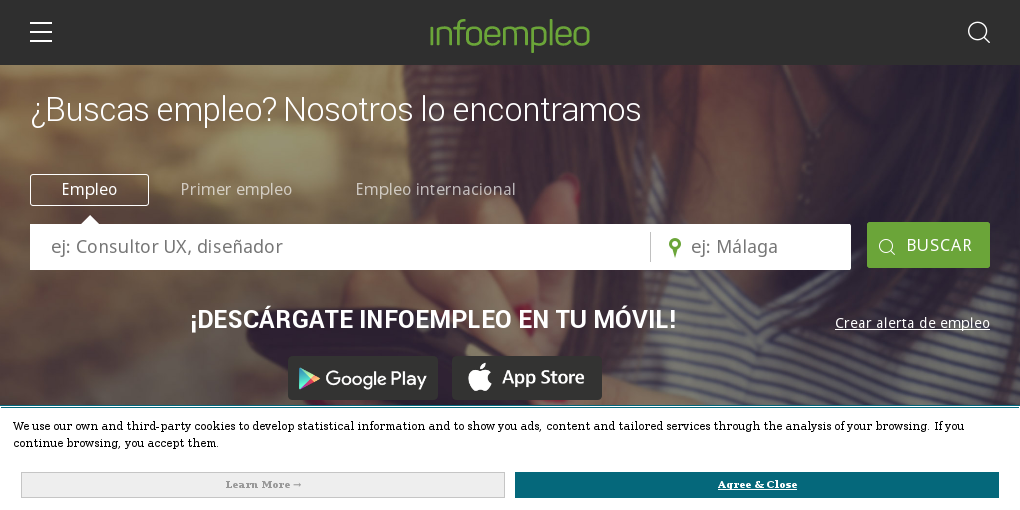 About
Improve the cost effectiveness of your recruitment campaign: Infoempleo is a leader in human resources management, employment and training solutions and is one of the biggest reference job portals in Spain. 
Your job ads will benefit from Infoempleo's strong network of partnerships with leading companies, professional and business associations, schools and fairs, which create synergies in technology, product and business management.
Continuos activities and initiatives in the field of social media make Infoempleo the frontrunner of recruitment 2.0 in the Spanish market and the best choice for fulfilling all of your recruitment needs.
With over 30 years of experience, Infoempleo has managed to adapt to changing times and become one of the most important job portals in Spain: more than 6 million registered users and more than 80,000 customers speak for themselves. In order to become closer to clients and user, we develop a free mobile job search app that offers a better experience.
Infoempleo has a mission: managing talent through a new model of intervention, developing new tools to connect with the candidate, bringing them closer to businesses and facilitating contact. Infoempleo offers comprehensive solutions for human resource management, employment and training, aimed at both the candidates and the professionals.
Infoempleo: using social networks to improve recruitment solutions
Recognising the important role that social networks are playing in the Human Resources field, Infoempleo has developed a series of products aimed at the recruitment and selection of talent through social networks. These include: Multiposting 2.0 which allows companies to publish their offers simultaneously across social networks. With these and many more initiatives, Infoempleo managed to position itself as well as the main job centre in Spain at the forefront of Recruitment 2.0. They enable you to attract more talented and more qualified candidates, right from your social media profile, bringing online recruitment into the modern age.
Our publications: leading reports in labor market
In order to learn more about the Spanish situation and the kind of opportunities that we are offering, we create reports based on data and candidates and HR team members. You can download the Spanish version for free.
Statistics
0
Total number of job listings
Product Offering
Testimonials
Adela Bravo – HR POS Recruitment Coordinator, Desigual
Whether looking for highly experienced senior managers or junior new starters in the vibrant retail industry, The Network has helped us to find the most suitable, passionate and committed candidates for our international stores in 12 different countries.