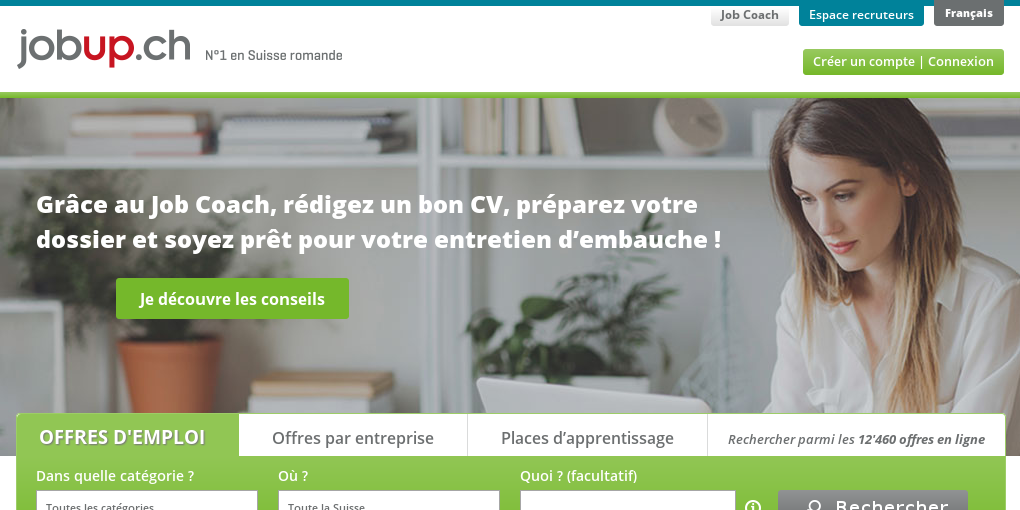 About
Recruit quickly and efficiently: Jobup.ch has been the local expert in French-speaking Switzerland for 10 years and is now the No. 1 job site in the French-speaking part of the country.
Looking for more than just a job board? Jobup.ch utilizes intuitive, efficiency-driving tools to publish ads and manage applications, with a website accessible in 3 languages.
Reach active jobseekers in Switzerland with jobup.ch's impressive CV database containing over 165,000 CVs, including qualitative, recent profiles.
Get your jobs noticed: jobup.ch's communication products have been designed to increase the visibility of your ads and employer branding.
Swiss made: for excellent local knowledge of the jobs market and expert advice, jobup.ch is the ideal choice for all of your recruitment needs.
Jobup.ch was founded in 2000 and is now the No. 1 online job board in French-Speaking Switzerland. Jobup.ch positions itself as a meeting facilitator and a leader in career management, both for recruiters and for jobseekers.
Through a user-friendly interface, jobup.ch has demonstrated long-standing experience as a solution provider in the field of digital recruitment. Jobup.ch puts together tailor-made solutions for publishing/managing postings and offers you application management, giving you easy access to a CV database dedicated to recruitment and advertising spaces on its platform.
Jobup.ch: more than just a job board
For jobseekers, all services on jobup.ch are completely free: the job search, management of the CV profile, and the process of applying all take place directly online or through mobile applications. Since April 2013, jobup.ch has been a part of JobCloud SA – a leading company in the Swiss digital recruitment field, responsible for running the two Swiss generalist online recruiting platforms jobup.ch and jobs.ch.
Jobup.ch listens carefully to the market and are always innovating, upgrading their services and using efficient technical tools to meet your needs, and those of jobseekers, as fully and effectively as possible. For efficient recruitment and good return on investment, your job ads are in safe hands with jobup.ch.
Statistics
0
Total number of job listings
Product Offering
Testimonials
Switzerland