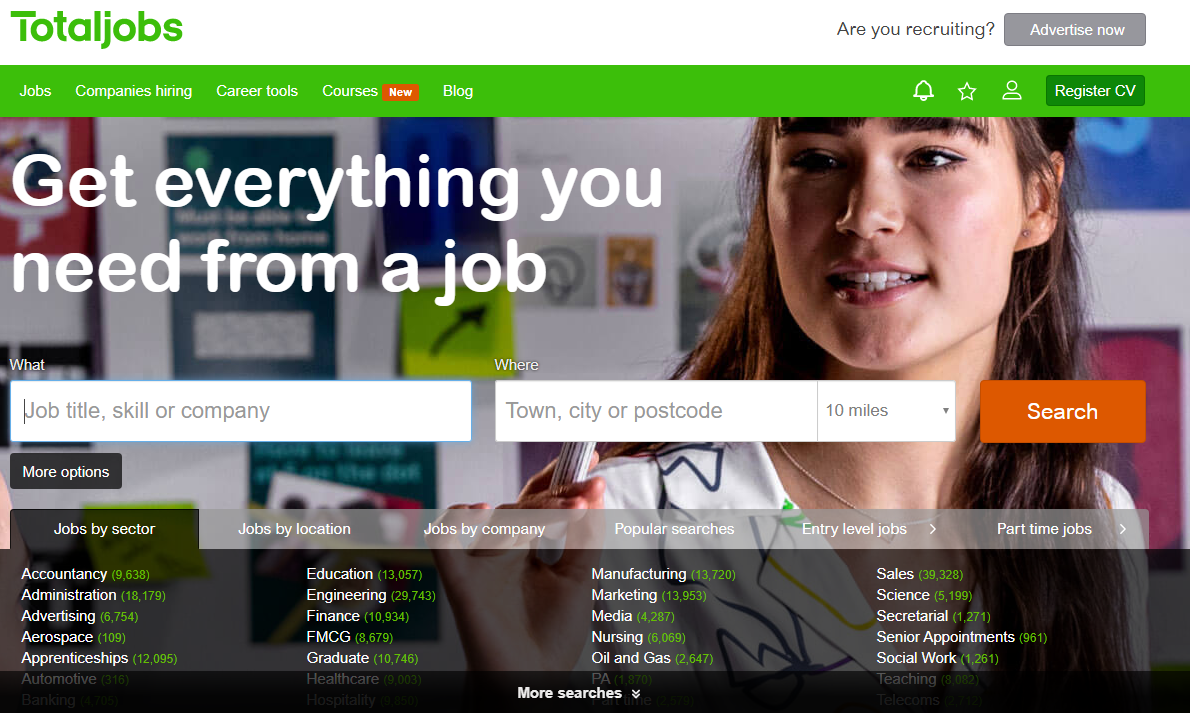 About
Nobody works harder to get you noticed, and that's why employers shortlist more candidates from totaljobs than from anywhere else.*
As one of the UK's leading job boards, totaljobs uses an intelligent online traffic strategy and a huge outdoor advertising campaign to attract new and unique candidates as soon as they begin their job search.
Once onsite, our advanced matching technology is designed to connect the right person with the right role, and with over 7 million candidates using the site every month, thousands of employers and recruiters, from every corner of the UK, are hiring smarter than ever before.
For those with hard-to-fill roles, the totaljobs CV Database is home to 10 million candidate CVs, and with a host of smart search features, and more detailed candidate profiles, pinpointing the right person has never been easier.
*All figures are averages. Telephone research conducted by TNS Global with 1,769 companies, co-commissioned by totaljobs and Jobsite.co.uk. For more information, visit www.totaljobs.com/TNS2016
As part of the StepStone UK Group, totaljobs.com is one of the UK's leading job sites, attracting over 7 million jobseekers every month and carrying over 140,000 live job ads at any one time. All of this activity generates over 4 million applications a month, cementing totaljobs' strong reputation among both candidates and recruiters.
Statistics
0
Total number of job listings
Product Offering
Testimonials
"Totaljobs makes recruitment easy. This is what makes them the best job board, and the only job board we actually use at the moment, because they are really responsive and it actually works."
"Over the course of 2016 we moved away from relying on recruitment agencies for sourcing talent & Totaljobs were one of the main vehicles in taking our messages to market. As a source, it's consistently driven a high number of candidates through our campaigns and I'd highly recommended utilising the tools which totaljobs have on offer."
"As an international, scientific organisation we often require quite unique skillsets which can be a challenging requirement per location. The CV Database has allowed us to bring in candidates who don't just have the right qualifications but the right fit for our business culture. We highly recommend this facility for businesses who need quick access to local candidates who are active in the market."