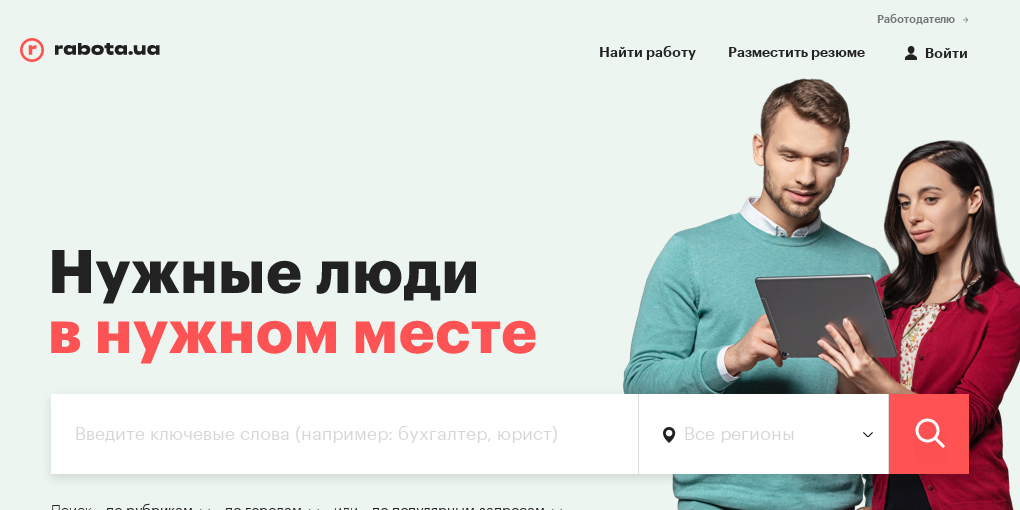 About
rabota.ua is the biggest job search website. We offer companies to unleash their potential by choosing the right people, and job seekers – to find the job they want among a variety of offers. Ukrainian employers trust rabota.ua. Over 45,000 million International and Ukrainian companies use services of rabota.ua to find professionals and promote their employer brand.
We have set a record with the number of job ads: more than 90 000 jobs ads from the Ukraine's employers speak for themselves.
With rabota.ua you can access the largest CV database in the country with over 1,5 million relevant CVs. We are the most popular job search website in Ukraine according to GfK Ukraine. Our monthly audience is 10 million users.
rabota.ua is your opportunity to create your own team for the successful development of your business. Use it!
rabota.ua has been operating in the online recruitment field for over 12 years, and became a part of Grupa Pracuj in 2006 – recognised in 2010 as one of the 50 fastest growing IT companies in Central and Eastern Europe. rabota.ua currently has six departments with over 50 employees, offering you quality customer service and delivering quick results.
rabota.ua: a proven track record in recruitment services
Thanks to the hard work of rabota.ua's dedicated staff, they can offer you the best recruitment solutions in the Ukraine, tailored to your individual needs. At the core of their business they promise to communicate your jobs directly to your target audience and to create the best impression for your employer brand.
The result is impressive visitor numbers of 1.5 million unique users per month and over 20,000 job ads live on their site at any one time.
Statistics
0
Total number of job listings
Product Offering
Testimonials
Anna Dyakina – Representative of the "Berlin-Chemie AG" in Ukraine
I would like to express my gratitude to rabota.ua! We have been working with them for more than two years and it has been a great pleasure to work with the site and its team. All requests are handled immediately and the resulting job ads (design, update rate etc) exceed all of our expectations.
The responses are good quality: 70% of the total CVs we receive are of the appropriate quality. In comparison with other sites, the flow of appropriate CVs pleases us with its consistency. Effective usage of banner ads, advertising in our corporate style and logos lead to a large number of professional responses and, for me, this is the biggest benefit of working with the site. The managers' competence is worthy of special praise. They always offer professionalism, customer care and clarity in the delivery of assigned tasks when they work with us. The design of the website also deserves mention: it is an attractive, concise, pleasant and convenient website.
We like that the website is developing dynamically and it goes to show the high level of professionalism at rabota.ua. Their innovations are useful, important to our business and very easy to use.
Hilti Ltd expresses its gratitude to the team at rabota.ua for their help with improving the profile of our company on Facebook. Thanks to the impeccable work of the rabota.ua specialists, open-vacancies tracking is possible through a mock-up of a new tab. This will be used as a template for the Hilti profile on Facebook in other countries.
Anna Prorochenko – Head of Recruitment, Real Hypermarket Ukraine Ltd.
Real Hypermarket Ukraine Ltd. has been working with rabota.ua for almost two years. During our collaboration there have been only positive 'surprises'. I especially want to highlight the strong customer focus of the rabota.ua managers. Our client manager Natalia Veremchuk is a person who will always help – she really knows the special and additional features available and promptly responds to any requests from our side.
Among their web services we would like to emphasise the 'calculator' of response rate. The main advantage of the service is the high site traffic, not only in Kiev but also in other cities, which is especially important for companies nationwide. An effective additional service that we found useful was the opportunity to design jobs in our own corporate style.
I would like to thank all of the employees at rabota.ua for understanding us and helping to make our job easier and happier!
Ludmila Skidan – Assistant to the department of labor and wages Boehringer – Ingelheim Ukraine
Boehringer – Ingelheim Ukraine has been working with rabota.ua since 2009 and we really like their web functionality. The active supportive work of our project manager Natalie Surzhak allows us to keep abreast of new online opportunities, services and supportive services.
Portal rabota.ua has a large database of active candidates in the pharmaceutical market from junior levels to high profile candidates, not only in the capital but also in the regions. I think that as a recruiting tool, the rabota.ua website is a powerful resource for attracting candidates for the pharmaceutical industry.
Alena Odnoralova – U.A. Inter Media Group Limited
U.A. Inter Media Group Limited has been actively cooperating with the rabota.ua website since 2006. I must say that every year the site has pleasantly surprised us with the quality of their work and rapid development. Effective collaboration is largely made possible by the professionalism of our manager Roman Rudich who always solves the problem on time and is well-qualified to do so. To date, based on our own experience, we can say with confidence that the rabota.ua website is a great service for employers in the Ukraine. Using the rabota.ua service helps us to not only successfully close our vacancies but also enables us to communicate our employer brand, building and maintaining it using the special tools offered by the site.